Canada
East (Headquarters)
West Penetone Inc.
10900 Secant street
Montreal, Quebec
H1J 1S5
Tel.: 514-355-4660
Toll free: 1 800-361-8927
Fax: 514-355-2319
West
West Penetone Inc.
11411-160 Street
Edmonton, Alberta
T5M 3T7
Tel.: 780-454-3919
Toll free: 1 866-454-3919
Fax: 780-455-2520
United States
East (Headquarters)
Penetone Corporation
125 Kingsland Avenue
Clifton, NJ 07014
Tel.: 201-567-3000
Toll free: 1 800-631-1652
Fax: 201-510-3973
West
Penetone Corporation
8201 Fourth Street, Suite G
Downey, CA 90241
Tél.: 562-904-6136
Téléc.: 562-904-6141
THE STRENGTH OF A STRONG PARTNERSHIP!
West Penetone is part of a consortium that includes Penetone Corporation, our American counterpart, and Petron Corporation, as well as multiple affiliates.
Our North American presence through West Penetone distribution centers and independent distributors allows us to reach customers whose cleaning, lubrication and safety needs require advanced technological solutions
PETRON CORPORATION
For over 25 years, Petron Corporation has been supporting the mining and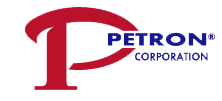 metallurgical industries worldwide by providing innovative high-quality lubricants. Petron also stands out in the development of synthetic and asphalt-based lubricants used in several industrial sectors including cement making.
Petron Corporation
16800 Glendale Drive
New Berlin, WI 53151
Tel: (414) 797-4680
Fax: (414) 796-1080